CONTEMPORARY SAKE WEEKS
WITH GUEST SAKE SOMMELIÈRE YURI IWATA
in collaboration with Nippon-Ya Vienna
from 23 January to 3 February 2018
BRASSERIE:
5-COURSE MENU – 78 EUR
SAKE PAIRING TO ACCOMPANY EACH COURSE – 56 EUR
(consisting of 4 sake and a dessert drink)
_
FINE DINING:
6-COURSE MENU – 96 EURO
SAKE PAIRING TO ACCOMPANY EACH COURSE – 74 EURO

(consisting of 5 sake and a dessert drink)
Contemporary Japanese Haute Cuisine with European accents meets the height of a centuries-old Japanese tradition: At the Contemporary Sake Weeks in SHIKI from 23 January to 3 February 2018, SHIKI host Joji Hattori and highly-trained sake sommelière Yuri Iwata from Nippon-Ya invited their guests to savour a specially conceived multi-course tasting menu in which the unique drink brewed from rice, water and Koji cultures could be experienced in a scope and quality that had never been seen before in Vienna. Yuri Iwata was available to give advice and answer questions of the guests during all ten evenings of the event.
"Sake needs a stage," says Joji Hattori. At SHIKI, the stage was set by the chef Alois Traint and Sushi Master Masahiro Yamada, who had devised a 5-course brasserie and a 6-course fine dining menu that was designed to provide a contrast to the fine and complex aromas of the sake, whilst always allowing it sufficient latitude. This exquisite interplay of flavours was consummately demonstrated by combining a Hiwata Yamahai Junmai Daijingo sake (Grand Cru, made with rice polished to the highest degree at the Hagino Brewery in the Miyagi Prefecture) with steamed sea bream, or by pairings that seemed unusual at first glance, such as the union of limited edition Lei Sapphire Junmai Gingjo produced by the Katsuyama brewery with truffle Brie from Normandy.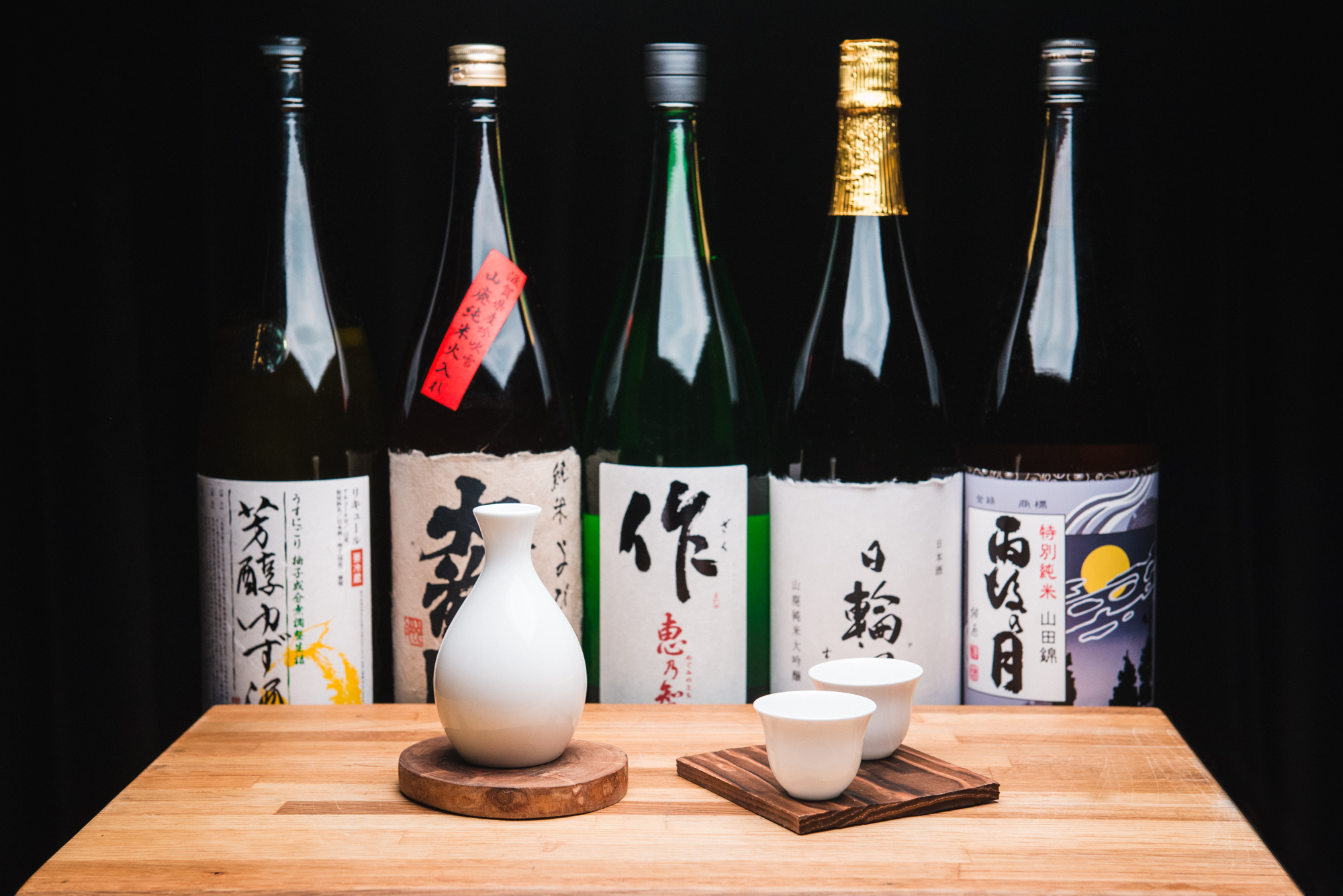 Premium sake from various regions
"Sake is a very sensitive product, which must be brewed, transported, stored and served perfectly, which is why, until now, we have deliberately only offered sake from a single, well-chosen brewery – Harushika in Nara," says Joji Hattori. "I am delighted that we are now able to serve a variety of premium quality sakes from five other top breweries, such as the renowned House of Katsuyama in the Miyagi Prefecture." This extraordinary event was only made possible by the friendly cooperation with Nippon-Ya, Vienna's oldest Japanese speciality business. Nippon-Ya owner Ayumi Kondo and staff member Yuri Iwata recently started to import a much larger selection of high-quality sake from various regions of Japan directly into Austria. At the Contemporary Sake Weeks in SHIKI, Yuri Iwata also offered to share her expertise as an official sake sommelière with all the guests, answering questions about breweries, areas and levels of quality. "One exciting example is the Daijiro Yamahai Junmai 2016 from the Hata brewery in the Shiga Prefecture that was founded in 1914," said Iwata; "this outstanding sake is made from Gin-Fubuki rice and underground water from the Aichi river, in accordance with the Yamahai method, which is old, very labour-intensive and risky. The result is a very powerful, complex and full-bodied sake that stores well and one might even call the mature red wine among the sakes – not that sake is wine, of course." This sake is served as an accompaniment to Tsukune of guinea fowl, a main dish in the special menu at SHIKI.
Four Seasons Winter:
Those who prefer a classic wine selection can choose from the extensive range of Austrian and French wines offered on the regular wine menu. The 23rd of January heralded not only the start of the sake-tasting event, but also the launch of the new standard SHIKI winter menu, featuring seasonal dishes such as Tataki of venison. Guests who are vegans or would like to try something a little different can choose from a selection of purely vegan dishes on the Fine Dining menu. Guests can also select individual dishes from both menus and thus create a meal to suit their own personal tastes.