SHIKI Japanese Fine Dining | Brasserie | Bar in the city center of Vienna offers its guests contemporary authentic Japanese cuisine with European accents and first-class service. Internationally renowned conductor and violinist Joji Hattori is the man behind the project, which began in early 2015.
In March 2018 Chef de Cuisine Alois Traint and his team at SHIKI were awarded the honor of the first Michelin star, which makes SHIKI the first Japanese restaurant with Michelin star rating in Austria and one of the few Japanese haute cuisine restaurants with this award. With the Michelin star, the restaurant refutes prejudices that Japanese cuisine is reduced to sushi, tempura and noodle soups served in a simple barren atmosphere. "We have succeeded in establishing the only restaurant in Europe that presents Japanese cuisine in combination with European fine-dining culture. Awards such as the Michelin Star confirm our mission to confront clichés about the kitchen of my home country.", says Hattori.
BEST OF BOTH WORLDS
Born in Japan and raised in Austria, Hattori returned to Vienna after about 20 years in London to open a restaurant that links the best of Japanese and European cultures and offers a personal handwritten touch in many ways: the Japanese word "shiki" means both "four seasons" and "conductor."
Japanese Fine Dining | Brasserie | Bar
A drink and a light snack at the bar, a simple lunch and our famous contemporary sushi in the brasserie, or a multi-course dinner in the restaurant's fine dining room  – discover contemporary Japanese cuisine as never seen before in Austria. SHIKI uses regional and seasonal ingredients for its innovative interpretation of authentic Japanese methods of preparation and its unique selection of vegan dishes. The comprehensive wine list with emphases on Austrian and French wines completes the perfect dining experience.
Modern Ambience
SHIKI is located in Krugerstraße 3 in the center of Vienna near the Vienna State Opera and is accessible barrier-free.  BEHF Corporate Architects are responsible for the restaurant's architecture and design.
The fusion of the "best of two worlds" is also reflected in our team. SHIKI has set up an Austrian-Japanese team of talented chefs who combine the best knowledge of the domestic market with a passion for Japanese cuisine.
The charming Austrian service culture has been a special concern of Joji Hattori right from the start, in order to best meet the expectations of the local guests – and SHIKI's many international guests also appreciate that.
According to Hattori "to be able to work with such a creative and highly professional team is a great joy," according to Joji Hattori, "because regardless of where we were born, we are bound by the vision of further developing this unique restaurant concept on the international level in Vienna. One could say: Not only I, but we all are 'gastrosophical' cosmopolitans with Japanese DNA."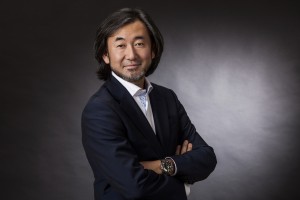 JOJI HATTORI, Host and Owner
Joji Hattori was born in Tokyo in 1969 to a well-known entrepreneurial family. At the age of eight, he came to Vienna where he stayed until he graduated secondary school. His musical talent led to an internationally successful career as a violinist and conductor. After nearly 20 years in London, Hattori returned to Vienna in 2011 where he decided to open his own restaurant.
You will find further infos about Joji Hattori on his website: www.jojihattori.com
Alois Traint,
Chef de Cuisine / Kitchen Director
Already at the opening of SHIKI, Traint as sous chef and right-hand of Takumi Murase, showed his extraordinary talent for Japanese cuisine. Thus, the Lower Austrian native and Viennese-by-choice, who approaches his creations with joy and care, has now also become Chef de Cuisine and Kitchen Director. Before his time at SHIKI he was cooking for Flosz, Vestibül, Schwarzes Kameel, Mörwald at Ambassador and Walter Bauer.
Masahiro Yamada, First Sushi-Master
For sushi lovers, the 37-year-old is already known from the restaurant Unkai at the Grand Hotel Vienna where he was head chef before joining SHIKI. Born in Fukoka on the Japanese island of Kyushu, Yamada worked as a cook in several restaurants for several years after finishing his chef's training. As the first sushi master at SHIKI, he is responsible for the sushi and sashimi variations.
Hendrik Mergell, Restaurant Manager
Hendrik Mergell was born in Recklinghausen, Germany and is restaurant director in addition to being managing director. In this role, the 34-year-old works in close collaboration with owner Joji Hattori as well as Thomas Grund and is primarily responsible for the background management and coordination of guest services. Previously he was working as a restaurant manager at Heinz Hanner, restaurant Artner and Kussmaul. "With pleasure" is his his working philosophy.
Thomas Grund, Service Manager
The new restaurant and service manager at SHIKI shares his area of responsibility with Hendrik Mergell. The Vienna native learned the ropes at Hotel Sacher with follow-up positions at Restaurant Steirereck, Petermann's Kunststuben in the Swiss town of Küsnacht and long years of service at Indochine21 and Yohm. At SHIKI, he now leads the service team with great commitment and a keen awareness for the personal touch needed in catering to the guests. What motivates the 43 year-old is "Being able to turn guests into friends."
いらっしゃいませ ∙ Willkommen ∙ Welcome ∙ Добро Пожаловать ∙ Bienvenido